Friends of Kpelezo (Pa-lay-zo) Community School

Friends of Kpelezo (Pa-lay-zo) is a group of past or present students from Ipswich High School, who have worked hard over the past three years to organize fundraising events, to make presentations to potential donors and to publicize the group's work on behalf of the Kpelezo community. The organization's Board of Trustees and other adult volunteers have provided guidance, managed funds and traveled with the kids or alone to Ghana to do projects, but the real energy and effort has come from the kids.
Mission and Purpose
First, to support education in the region around the Kpelezo Village in the Volta Region of Ghana. Our program is based on a careful evaluation of funding needs related to the educational environment including classroom resources, school construction, student sponsorships, and support for teachers and school lunch programs.
Second, to raise awareness among children in targeted U.S. schools of the circumstances and cultures of children in the Ghanian school and to establish communication and facilitate cultural exchanges between the children in the two countries.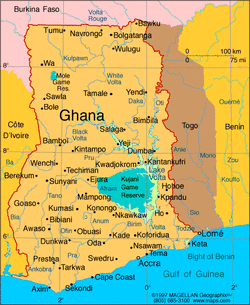 About the village of Kpelezo and its surroundings
.
The village of Kpelezo is located in a remote area in the Volta Region of Ghana, close to the boarder with Togo. The nearest city is Hohoe (shown just to the right of the game reserve in the map to the left). Kpelezo is approximately 4 hours by bus or car from the capital city of Accra.
The population of the village, including outlying settlements, is approximately 500.
The people of Kpelezo are mostly peasant farmers. Among the crops grown are yams, cassava, rice, palm, corn and various other vegetables.
Until July 2015, there was no water supply and villagers had to carry water from a nearby river flowing from the Togo Mountains. Due to recent lower than normal water flow, the water became unsafe to drink. Now they have a well with a hand pump centrally located near the school.
In early 2013 electricity was brought to the village, though electrical service in the area remains spotty.
---
About the Kpelezo Community School
The Kpelezo Community School serves children up to around age 10, depending upon their education level. There are two levels of kindergarten - KG1 and KG2, and primary grades 1 though 5. The school was established to serve the children in the village who were too young to walk the long distance to neighboring community schools. The school is a public, government supported school.

Improvements to the Kpelezo Community School
The school was built in 1993, but pretty much stopped functioning due to lack of leadership and funding. In 2005, Mr. Afenyo Tsekpo Hephphatha returned to the village after completing his university education and teaching at schools in Accra and Kpando. Afenyo was concerned that the young children of Kpelezo had to walk several miles along the main road, and many of them had to cross a river which became dangerous and impassable during the rainy season, in order to attend school. He realized that, without a community school, many children in the village would not attend school at all. Afenyo undertook to revive the school. With overwhelming support from the community, he hired two teachers, paying them with proceeds from his own farming operations. Afenyo succeeded in enrolling nearly every young child in the village in the school program.

In 2011, Afenyo met Erin Monahan from Ipswich who was volunteering in a nearby school. He was a passionate advocate for the Kpelezo Community School and asked her to deliver a letter seeking support to her family and friends in the US. Inspired and moved by the story, Erin's mother, Susan Monahan, began corresponding with Afenyo and putting together the story of the school and the community.

Susan asked her daughter Katie and a group of Katie's peers from Ipswich High School if they were interested in helping to raise money to support the Kpelezo School. This was the beginning of the Friends of Kpelezo organization. The funds raised by these high school kids at various events, along with generous donations from others who heard about the program, enabled a series of improvements at the school. The original classroom building was renovated, with funds from Friends of Kpelezo, in 2012 and 2013. In addition to physical renovations, tables and chairs were purchased, electricity was brought to the building and a toilet facility was built. As a result of this work, the school was able to meet government standards and for the first time, was incorporated into the national educational system which meant that the government could pay teacher salaries.


However, even after these improvements, the school was still too crowded and teachers were forced to hold classes outside under the trees, and could not accommodate all the children in the rainy season. In 2014-15, additional funds were raised to build a new school block with two classrooms, bringing the total to four classrooms. Six volunteers from Massachusetts traveled to Kpelezo to work with local tradesmen and the construction of the new block was completed in May of 2014. With the addition of the school block, the government posted three additional teachers to the school. The school now has four certified teachers for students in early kindergarten through primary level 5 (roughly equivalent to grade 5).

Friends of Kpelezo Senior High School Scholarship Program
Another component of the Friends of Kpelezo program has been direct involvement with the village children. In 2013, five students from Ipswich went to the village to run a two week summer camp for the children in the village. In addition to the young children it was intended to serve, it attracted a number of older youth who were interested in getting to know these kids from the USA. Three boys in particular stood out - Basel, Bismark and Emmanuel. These boys had done exceptionally well in junior high school and were determined to continue their schooling into senior high school. In Ghana, school is free through junior high school, but after that the school fees are a serious deterrent - no family in the village of Kpelezo can afford to send their child to senior high school. The volunteers realized that for Basel, Bismark and Emmanuel, Friends of Kpelezo was the only hope for continuing their education.

Thanks to fundraising by the Ipswich High School students and other Friends of Kpelezo volunteers, these boys attended three years of high school at Ve Senior High School (VESEC) and graduated last spring. They were top in their class. In their final year, Emmanuel was elected to be the School Prefect, the highest school honor, and Bismark was elected as Class Prefect. Emmanuel has returned to the village to provide academic support to the children at Kpelezo while he saves money and prepares to apply to college.

Friends of Kpelezo is supporting four additional students in high school, thanks to individual sponsors. You can learn more about these student in our High School Sponsorship Program tab.


Partner Organizations


---

---

---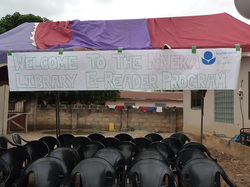 The Worldreader library was officially launched with a celebration that included speeches from area dignitaries, and top-notch cultural performances by students from three area junior high schools. Friends of Kpelezo has partnered with the
Nneka Youth Foundation
a Ghana based NGO to support efforts to build literacy in and around Kpelezo. Nneka's mission is to empower and inspire children in poor, rural communities to remain in school so that they are able to realize their full potential and eventually to give back to the community. Each summer Nneka holds a series of 6 day "World Changer" camps. During the summer of 2016 over 3,000 young people from rural Volta region communities attended the camp, participating in motivational fun-filled activities that reinforce the notion that they can take charge of their own lives and go on to succeed.
In addition, Nneka has organized after-school reading clubs in 10 area junior high schools. Students meet daily after school to read with an assigned teacher/mentor. The program's greatest impediment to success has been getting enough relevant reading material into the hands of the students.
Cecilia Fiaka, Nneka's Founder and Director, and Susan Monahan talked about the growing need for getting reading materials to the many students eager to improve their reading skills. It was during one of these conversations that the idea of electronic readers loaded with books came up. Susan and Cecilia reached out to the
WorldReader Program
, a U.S. based, not for profit organization, and a generous donor to Friends of Kpelezo provided a grant to purchase one of WorldReader's signature Blueboxes. The Bluebox included 50 Kindle e-readers each loaded with 100 thoughtfully selected books, half of which were written by African authors.
In June of 2015, Susan led a team of four volunteers to the village with the goal of setting up an E-Reader Program. The volunteers trained four teachers and a library administrator, who in turn trained over 150 junior high school students and a group of ambitious early readers from the Kpelezo Primary School. After these training sessions, the Worldreader program was officially launched with a celebration that included speeches from area dignitaries, and top-notch cultural performances by students from three area junior high schools. When Susan and the volunteers returned home, the 50 e-readers along with over 400 hard-copy books that the volunteers had brought with them were handed over to the Nneka Youth Foundation, who will administer the library as part of their program to build literacy in the community.
---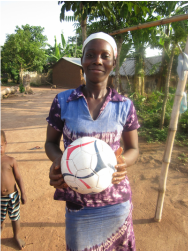 Playing It Forward
is an organization that seeks out new and used sports equipment from manufacturers, schools, colleges and universities, sports clubs and community groups to be donated to disadvantaged children across the globe. David Cohen, Playing it Forward's founder, donated a sack full of soccer balls and goalie gloves to Friends of Kpelezo for distribution around the Kpelezo community. One day the young mother pictured here came to us and asked if there was an extra ball for the young mothers in Kpelezo who play soccer regularly at the Kpelezo playing field. She was thrilled to receive this ball on behalf of her group of women friends. We saw them playing later that day - all in bare feet and full of good spirit and laughter.
---
Board of Directors:
Susan T. Monahan
Anngenette G. Tyler
Erin T. Monahan
Christian G. Jacqz
Frank Hertz
Contact Information:
Email: kpelezoschool@gmail.com or susan.t.monahan@gmail.com

Facebook: search for Friends of Kpelezo Community School

Address: 6 Wainwright Street
Ipswich, MA 01928

Phone: 978-356-7867
---
Donations in any amount may be sent to:
Friends of Kpelezo Community School
6 Wainright Street
Ipswich, MA 01938

Or contribute online using the PayPal link below:
Friends of Kpelezo is a 501c3 charitable organization. All contributions are tax deductible.